Rick Simpson Oil. Why is there Rick Simpson Cannabis Oil on a CBD website?
Because for certain conditions, like cancer and serious pain, CBD doesn't seem to be enough.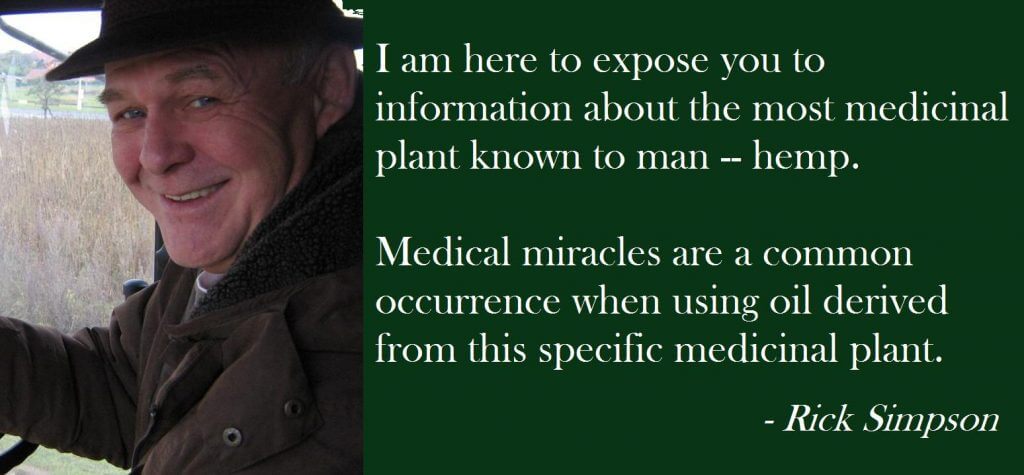 The Rick Simpson Method™ of healing includes cannabis, rest and sleep. After a serious head injury in 1997, Rick Simpson sought relief from his medical conditions through the use of  cannabis oil. His is one of the most well-known stories in the cannabis community. If you're not familiar with it, take time to watch this fascinating story of a true pioneer below. Support his family by buying his book.
Rick Simpson Method Information:
Click here to view or download PDF of brochure and instructions 

There are 6 bottles available in this protocol.
The bottles increase in numbers of milligrams per bottle and per pump:
RSO 1, 150 mg, 1 mg per pump
RSO 2, 300 mg, 2 mg per pump
RSO 3, 750 mg, 5 mg per pump
RSO 4, 1500 mg, 10 mg per pump
RSO 5, 3000 mg, 21 mg per pump
RSO 6, 6000 mg 42 mg per pump
You may choose to do the 6 month program, using 1 bottle every month for 6 months.
OR you can use any of the bottles anytime for a consistent and accurate amount of cannabis oil.
For example, we've figured out that Rick Simpson Method Bottle 3 gives you the same value per mg as any of the higher concentrated bottles. So many people like to keep a bottle of it around for when they want a 5 mg dose, 2 pumps for a 10 mg dose, or 3 for 15 mg.
Please contact us if you are interested in this product.
Nothing on this website should be taken to constitute professional or medical advice. THESE STATEMENTS HAVE NOT BEEN EVALUATED BY THE FDA AND ARE NOT INTENDED TO DIAGNOSE, TREAT, OR CURE ANY DISEASE. Reviewing the information on this website is no substitute for consulting with your physician.