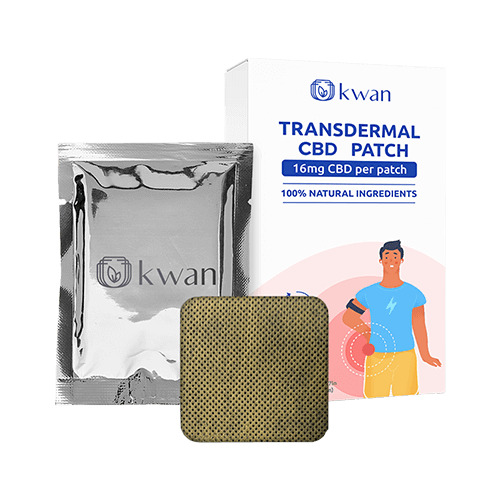 Are you looking for a CBD-infused transdermal patch to provide hassle-free, slow-release of active compounds into your system via the skin? Look no further!
Simply place the patch on your skin for 8 hours and feel the relief! You can place the patch where you desire relief – neck, back, shoulder, knee, elbow arm, even your fingers or toes!
Five Star Reviews
Transdermal Patch Features
16 mg of CBD per patch
8 Patches in a package.
Lasts up to 8 hours
1.97in x 1.97in (5cm x 5cm)
GMP certified
Water Safe
Easy and Convenient Even While Exercising
How to Use for Best Results
Clean and dry desired area
Place on or near desired area
Remove the printed liner
Firmly press patch onto skin
Wear continuously for up to 8 hours
Avoid Eye Contact
Remove after 8 hours
What is a Transdermal Patch?
A transdermal patch is a medicated adhesive patch that is placed on the skin to deliver a specific dose of medication through the skin and into the bloodstream.
The CBD patch is rigorously tested by reputable third-party laboratories which specialize in hemp testing. The researchers and manufacturer spent many hours developing and perfecting this product.
Contact us if you are interested in the Transdermal Patch.
We are working with the manufacturer on the availability around the world. It's definitely available in the USA.
The price has been dropping as more are sold.
This product is suggested for someone who does not want to take CBD internally.
It also make a unique gift!