Each lip balm was created using the original Whole Flower extracted fluid, which contains the full medicinal plant benefits of cannabinoids, terpenes, and flavonoids. This helps to reduce pain and inflammation and promote healing. The lip balm protects against harsh weather, heals, soothes, moisturizes and hydrates dry, chapped lips, giving them an overall healthier look.
There are three flavors – Nilla Vanilla, Cocoa Coco and Lava Mynt. Each was carefully created to provide a luscious experience for your lips with each use. Great for dry, cracked lips, or anyone who wants more moisture and protection from harsh elements like the sun.
Other Key Ingredients Include
Organic Beeswax – a unique natural wax produced by honeybees, to treat chapped and cracked lips. Contains antibacterial elements, protects from UV rays, and moisturizes with natural emulsifiers.
Kokum Butter – derived from the seeds of a fruit-bearing tree, restores moisture to deeply nourish and soften dry, chapped lips. Upon application, it melts onto the skin and absorbs easily, without leaving any greasy residue. Doesn't clog pores.
| | |
| --- | --- |
| Weight | 1.3 oz |
| Dimensions | 3 x 3 x 1 in |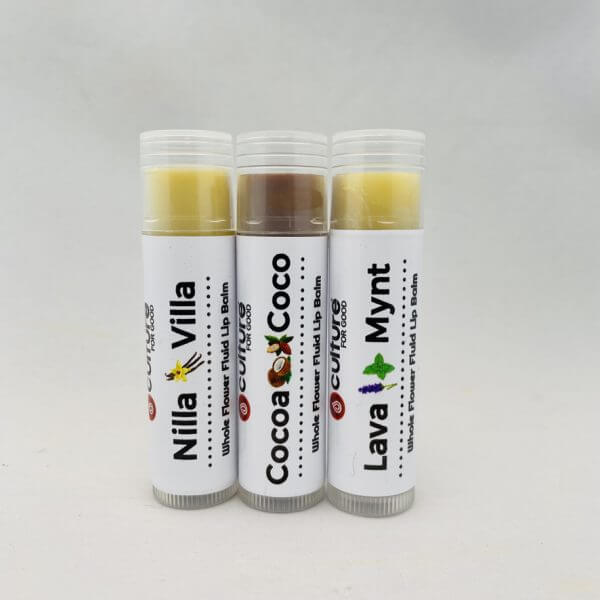 CBD Lip Balm Made With The Whole Flower Fluid
Because the whole flower fluid is naturally water soluble, it is easy to combine it with other products. Our affiliate, Culture For Good, has created these lip balms as an alternative to other balms that use fillers and unhealthy ingredients. Unlike lip balms that include chemicals and engineered waxes like paraffin, whole flower fluid and beeswax lip balm nourishes, protects, and enhances your lips the way Mother Nature intended.
The CBD lip balm is now available in the following 10 countries:
The United States, the United Kingdom (UK), Australia, Canada, Ireland, Mexico, New Zealand, Philippines, Singapore, and Spain.
You'll be taken to an affiliate site, so please continue to give us feedback about your experience.