Our Whole Flower Fluid Products Are Now Available In Australia!
Whole Flower CBD Products Bundle
We've had requests for years for the CBD Whole Flower fluid in Australia and finally it's possible! Just click the link below to be taken to where you can order the fluid, the Oral Spray, and other products made with the cutting edge technology now available in Australia!
This bundle showcases 5 products made with the proprietary Whole Flower CBD Fluid. Included is 100 drops of the Whole Flower Fluid, a CBD pain roll-on stick, Passion Fruit Gel Eazz, Head to Toe Whole Flower CBD Body Stick and 3 Whole Flower Lip Balms.
When you click on the link below, you will be taken to an affiliate site. There, you can explore all of their products, or just order the CBD Bundle.
Please use our contact form if you have any questions or comments about the affiliate site. They are a new partner of ours and we take all feedback seriously.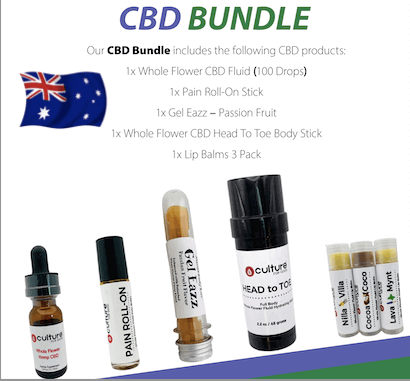 Australia CBD Recommendations
For serious ailments, we recommend the fluid or the spray. Both have been used by customers all over the world, with great results. You can see more reviews here.
The Pain Roll On, a topical CBD, is good for pain that is close to the top of the skin. Many customers like to combine a topical pain relief roll-on with internally-digested CBD, which is great for overall inflammation.
Seven years of testimonials from happy customers
From our very first customer in 2014, we have followed up and asked for feedback. People with the most severe ailments, flocked to reorder and their feedback was essential.
We take your comments seriously and would like to hear about your experience on the Affiliate website, as well as your feedback on the products. Thanks Australia!
Please leave any reviews and feedback here.
Check out more information about CBD in the European Union.