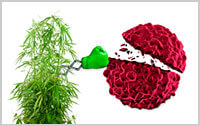 Source: Norml.org
Tel-Hashomer, Israel: The administration of the cannabinoids THC and CBD limit cancer activity in neuroblastoma cells in culture and in animals, according to preclinical data published in the journal Current Oncology. Neuroblastoma is an aggressive form of childhood cancer that often goes inadequately addressed by conventional treatment.
Investigators reported that both types of cannabinoids reduced neuroblastoma cell viability, but that CBD demonstrated superior anti-cancer ability. The study is the first to document the anti-cancer properties of CBD in this particular cancerous cell line.
They concluded, "Our findings about the activity of CBD in nbl (neuroblastoma) support and extend previous findings about the anti-tumor activities of CBD in other tumors and suggest that cannabis extracts enriched in CBD and not in THC could be suitable for the development of novel non-psychotropic therapeutic strategies in nbl."
Preclinical data dating back over four decades has consistently documented the ability of various cannabinoids to halt the spread of cancerous cells in laboratory settings.
In 2011, the website for the US National Cancer Institute, cancer.gov, acknowledged the anti-cancer properties of cannabinoids, posting, "Cannabinoids appear to kill tumor cells but do not affect their non-transformed counterparts and may even protect them from cell death. … In the practice of integrative oncology, the health care provider may recommend medicinal cannabis not only for symptom management but also for its possible direct antitumor effect." The language was removed from the website a little over a week later.