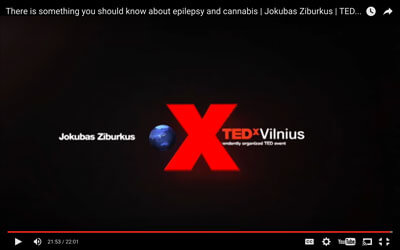 Wow! I just stumbled across this TedX talk about epilepsy and cannabis by Jokubas Ziburkus.
During his first postdoctoral fellowship at Johns Hopkins University's Mind/ Brain Institute, he performed a series of important experiments that led to significant insights on neuromodulation of synaptic plasticity in the visual system.
Here, he explains certain neurotic disorders and the potential of cannabinoids for treating them.
Watch TEDx Conference video about Cannabinoids and Epilepsy
I've started it mid-way through when he begins to talk about CBD and the Endocannabinoid System. Otherwise known as the ECS, this system is the secret to why CBD is so effective so many different disorders.
In his talk, Dr. Jokubas talks about the catastrophic statistic that 20% of children die after a seizure for unexplained reasons, and implores the medical community to listen to their patients when they bring up the potential of CBD and cannabis for treating seizures like epilepsy.
He uses an analogy which I really like. Say that your child has a condition that can be improved with the consumption of a glass of bourbon every day. Well, of course, you would not want to give your child the alcohol – but what if you found a way to give your child the medical benefits of the bourbon WITH THE ALCOHOL REMOVED?
Well…..that is what CBD is in relation to cannabis and CBD.
Enjoy the video and….
Please share