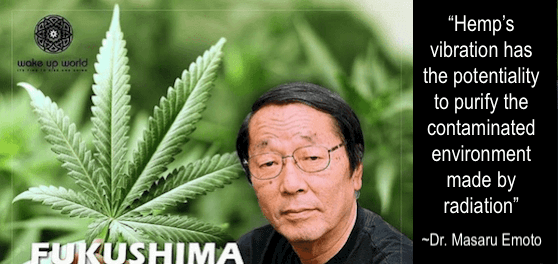 One of the most exciting but lesser known benefits of hemp plants are that they leach contaminants from soil, a process known as phytoremediation. (photo credit – Wake Up World)
Could Hemp Help Decontaminate Radioactive Soil at Fukushima?
Amazingly, it's being discovered that hemp goes so far as to purify radioactive soil such as found at nuclear disaster sites.
For more than a decade, industrial hemp growing in the Ukraine near Chernobyl has been helping to irradiate the soil.
As far back as 2012, the renowned Dr. Masaru Emoto urged Japan to consider hemp as their solution to purify the radiation caused by the meltdown at Fukushima:
One of the reasons Japan has been slow to follow in the successful path of Chernobyl, or to heed Dr. Emoto's wise advice is the Cannabis Control Law. This was inserted into Japanese law in 1948 during U.S. occupation. Similar to the strict enforcement of growing industrial hemp in the U.S, this law requires that hemp may only be grown under a license which is highly restricted and difficult to obtain.
More Benefits of Hemp for the Planet
(Coming soon)
Can the Hemp Be Used After Cleanup?
We wouldn't want to use hemp grown in polluted soil for CBD, particularly for a raw CBDa product like the Whole Flower Fluid.
But there may be some industrial applications in which the biomass may still be useful, even beneficial! If the hemp is contaminated with toxic materials, its stalks and fibers could still be useful as a building material.
According to scholar Elizabeth Pilon-Smits , in cases where heavy metals or sulfates contaminate the soil, these are technically also nutrients.
Food or feed enriched with a micronutrient like [Selenium or Iron or Zinc] is considered biofortified, and may have added value.

Elizabeth Pilon-Smits
So perhaps after dilution with another feed source, the biomass may have use as a food (as long as the concentration of the nutrients is allowable). Especially for animals.