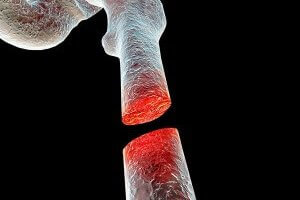 A recent study by researchers in Israel has found that cannabidiol (CBD) from cannabis helps heal bone fractures. 
Not only does CBD make bones stronger while healing, it makes them less likely to break in the future!
Dr. Yankel Gabet, one of the lead researchers explained: "We found that CBD alone makes bones stronger during healing, enhancing the maturation of the collagenous matrix, which provides the basis for new mineralization of bone tissue. After being treated with CBD, the healed bone will be harder to break in the future."
There was no additional healing recorded with the presence of THC in addition to CBD. The researchers concluded: "CBD alone is sufficiently effective in enhancing fracture healing… Multiple experimental and clinical trials have portrayed CBD as a safe agent suggesting further studies in humans to assess its usefulness for improving fracture healing."
If you are looking for CBD to enhance healing of a fracture, we would definitely recommend the CBD Whole Flower Fluid if you are in America. It's the most effective and potent CBD we've found anywhere in the world.
It's already known that CBD works on the endocannabinoid system in the brain which regulates things like mood and memory, as well as the skeleton.
This study could lead to further studies investigating CBD as a treatment for osteoporosis. Dr. Gabet has conducted previous studies which showed that CBD receptors stimulate bone formation and prevent bone loss.